The 2019 Summer Movie Season is over!
Once again, many have said this year's Summer Movie Season was a disappointment, lacked any real substance, or was filled with too many sequels, reboots/remakes and what-have-you. Whether you want to listen to all that or not is up to you. Personally, I don't listen to the noise, but I did feel like the latter half of the Summer Movie Season lacked any real, "I need to see this movie NOW." Regardless of that, this summer had some pretty descent movies, and some great enjoyable movies. So here's my roundup of the Summer Movie Season 2019 (movies are not in a particular order).
The "I Have No Idea What to Think"
Scary Stories to Tell in the Dark
Based on the acclaimed book series written by Alvin Schwartz, produced by Guillermo del Toro – who had always had plans on directing originally – and directed by Andre Ovredal (the fantastic The Autopsy of Jane Doe), Scary Stories to Tell in the Dark was bound to be a hit, or at the least halfway descent. I know I felt the movie was good, but it was always going to have an uphill battle trying to make the series of short stories into a feature-length film. Personally, I think they found a pretty descent way to bring these stories together – they ended up using one of the stories as a building block to create the Sarah Bellows character, and then have short stories be "nightmares" or stories the character have had/heard be the ones that come to life.
Again, I liked Scary Stories to Tell in the Dark, but there was something about it that I felt it need more.
Once Upon a Time…in Hollywood
Quentin Tarantino's ninth film was one of the most divisive films of the summer, and probably will be for the rest of the year. Tarantino's fairy tale-esque story of the final years of the Golden Age of Hollywood followed Leonardo DiCaprio's Rick Dalton, an aging star, trying to find his way in a changing Hollywood with his stunt-man and best friend Cliff Booth, played amazingly by Brad Pitt. The film also starred Margot Robbie as the late Sharon Tate, and also included the Mason family.
I won't go into the massive think and opinion pieces that the film spawned, but the film definitely had us talking more than I thought it would. No matter where you fell in the spectrum, Once Upon a Time…in Hollywood did its job of getting us to talk about it on more than one level – good or bad.
Should Have Been Better (But I'd Still Recommend)
Godzilla: King of the Monsters
Its giant monsters fighting each other, so yeah, I enjoyed it. It was everything in-between that kind of slowed the movie down. Brightburn
Brightburn, basically the Superman story but if he'd had been evil the whole time, would also go under the frustrating category for me because the movie doesn't really fully execute what it was trying to do, or at least didn't fully go where it should have.
Stuber
Stuber is one of those movies that isn't completely original – story-wise – but the concept of a cop, played by the always reliable Dave Bautista, who can barely see, who basically kidnaps his Uber driver, Stu, played by the also always reliable Kumail Nanjiani, to help him take down a criminal who killed his partner works here. Genuine laughs and some great chemistry between Bautista and Nanjiani made Stuber worthwhile.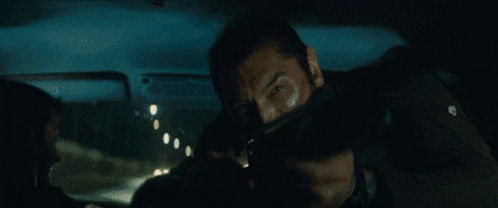 Real Surprises of the Summer
Aladdin
Say what you want about the Disney live-action adaptations, I'm personally in the whatever camp as long as they're good. When it comes to Aladdin though, I was never personally a huge fan of the old cartoon, so my connection to it wasn't as strong as others. I went in expecting a lukewarm movie, but instead I was drawn in by the big, bright musical numbers, and while the movie had some pitfalls, I was genuinely surprised I walked out of Aladdin as an enjoyable movie.
Crawl
I completely counted out Crawl from the very beginning. The movie followed Haley (Kaya Scodelario), who during a hurricane, goes to check on her father (Barry Pepper) who turns out to be injured, and the two have to not only brave the hurricane, but also a group of alligators. Yeah, the concept is a little whacky, and the trailers didn't sell it too well, but man did I enjoy the hell out of Crawl. The movie is a solid horror thriller that got me a couple times with some solid jump scares, and Scodelario and Pepper sell the hell out of it. Seriously, Crawl is going down as one of my biggest surprises of the year.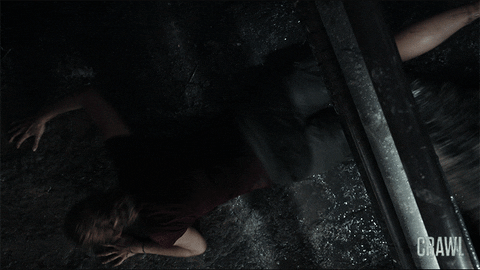 Least-Liked/Disappointments
Dark Phoenix
20th Century Fox once again whiffed the famous Dark Phoenix comic story on the big screen, and it's all the more frustrating again, because like the old X-Men movies, the build-up to this version of the story wasn't all that bad. Apocalypse teased out story, but Dark Phoenix simply chose to ignore that tease in favor of just retelling the story all over again.
The movie also had some behind-the-scenes shenanigans, like a last-minute third act reshoot, Fox being bought by Disney, Jennifer Lawrence clearly not wanting to be there and, despite his best effort, long-time producer of the franchise Simon Kinberg making his directorial effort.
On top of all that, the movie feels just pretty bland. Speaking of bland…
Men in Black: International
How do you not capitalize on the fantastic chemistry between Chris Hemsworth and Tessa Thompson from Thor: Ragnarok? I don't know, but somehow they didn't, and we suffered from it. Men in Black: International's biggest problem is that's really bland, and while things happen, it's really not that all exciting. The movie also apparently had some behind-the-scenes troubles like the script constantly changing, an stars Hemsworth and Thompson rewriting their own lines. Never a good sign.
Child's Play
I was willing to give Child's Play a chance, and while Brian Tyree Henry's supporting cop character was probably the only real saving grace of the movie, and Mark Hamill voicing Chucky was a bold move, but the writing didn't do him any favors, Child's Play just didn't do it for me. Some aspects of the movie were okay, but at the end of the day, Child's Play is going to be remembered for being denounced by original creator Don Mancini.
Shaft
Look, I love Samuel L. Jackson as much as the next person, but this new Shaft takes the wrong approach to old school/old mindset vs. new school. A lot of the jokes that Jackson's Shaft comes off as a tad bit too misogynistic for their good, and despite the father-son dynamic between him and Jessie T. Usher's Junior working near the end, Shaft had too many missteps and non-working parts to really have me rooting entirely for Jackson.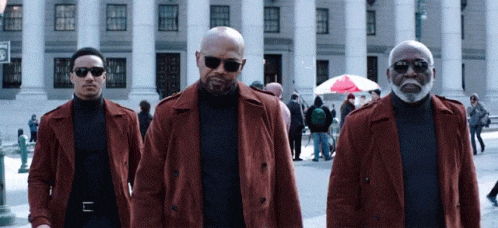 Honorable Mention
Toy Story 4
Fast & Furious Presents: Hobbs & Shaw
Spider-Man: Far from Home
The Peanut Butter Falcon
My Favorite Movies of the Summer
John Wick: Chapter 3 – Parabellum
Let's face it, John Wick is the best American action series we've had for some time. The series has a great team behind it with former stuntman turned director Chad Stahelski and star Keanu Reeves getting us to root for people to get jacked up in the best way possible. Parabellum is more or less of the same from the previous films, but damn we I love seeing Reeves kick ass.
Detective Pikachu
Growing up with Pokemon, I was always going to watch this. Granted, I was skeptical at first because I didn't know how they would be able to pull it off without the CG looking goofy. Boy, was I wrong! The Pokemon looked great, and Ryan Reynolds brought Pikachu to life in a way I never thought was possible. Was it a little wonky, sure, but come on live-action Pokemon on the big screen!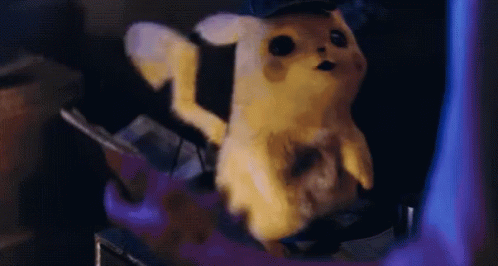 Booksmart
The directorial debut of Olivia Wilde sure made waves this summer, at least with the people that saw it in theaters. Booksmart told the coming-of-age story of best friends Amy (Kaitlyn Dever) and Molly (Beanie Feldstein), who on the night before their graduation realized they haven't partied enough – because they wanted to get into good colleges – and try to right the wrong, of course, comedic hijinks ensue. Booksmart might be one of those movies that people catch on streaming, and say "why didn't I watch this in theaters!?"
Dever and Feldstein had tremendous chemistry together, and the movie gets pretty wild – no pun intended – and the movie could have gone the raunchy route, the movie took the innocent – well, somewhat innocent – route.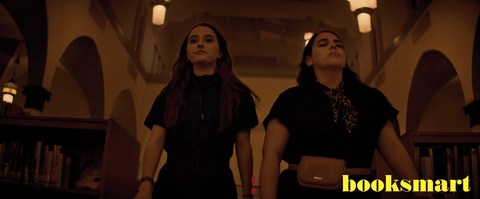 Midsommar
Ari Aster did it again. Midsommar was on a lot of people highly anticipated list, mainly because we wanted to see what Aster had up his sleeve after Hereditary. We got our answer, and I don't think we were entirely ready for it. The film followed a couple (Florence Pugh and Jack Reynor) who along with two more friends go to Sweden and visit a small village to see their summer festival. Of course, things go very, very wrong…and weird.
Whereas Hereditary was about what's in that dark corner, Midsommar made all the horror hit you in broad daylight. It's a vicious, slow-burn of a movie that makes you anxious and with an ending that left many questioning what the hell? Because yeah, Midsommar was probably one of the most "what the hell?" movies of the year.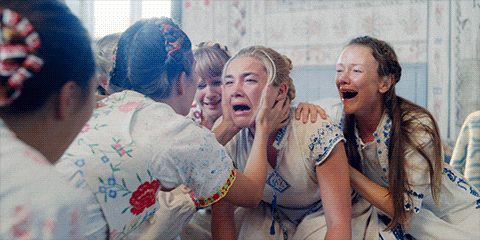 The Farewell
Based on an actual lie of Lulu Wang's life, The Farwell follows Billi, played incredibly by Awkwafina, who finds out her grandmother in China has cancer. Her family, finding it better not to tell her, fake a wedding to get the whole family together to see one last time. I really loved this movie. Not only is it extremely touching, the performance by Awkwafina was, to me, extremely surprising. I think most of us know Awkwafina from her comedic work, so seeing her in a dramatic role like this was also welcoming. While the story is mostly around this Chinese family, I think we can all connect to the story in some form.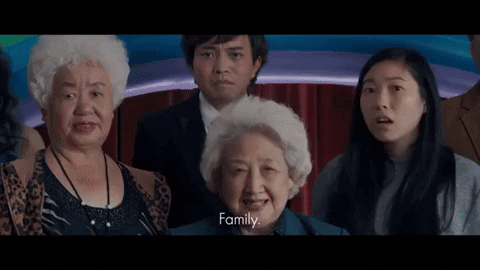 Ready or Not
Ready or Not will probably go down as one of the movies of the summer that everyone missed out on. It follows Samara Weaving's Grace, who gets married into the Le Domas family, but realizes that the family has a dangerous deal with a mysterious figure that requires a sacrifice in the form of a game – Hide and Seek. That's basically the bare bones of the movie, but there is a lot more to unpack and watch to enjoy. Ready or Not knows what it is, so it doesn't try to give you an dishonest movie or even try to make it more serious than it's suppose to be.
Weaving, once again, is reliable as ever and the family is the perfect foil to her character who's just trying to survive anyway possible. Ready or Not will definitely be popping up again at my end of the year list. If you haven't already, do yourself a favor and go watch this in theaters with as little information that you possibly can.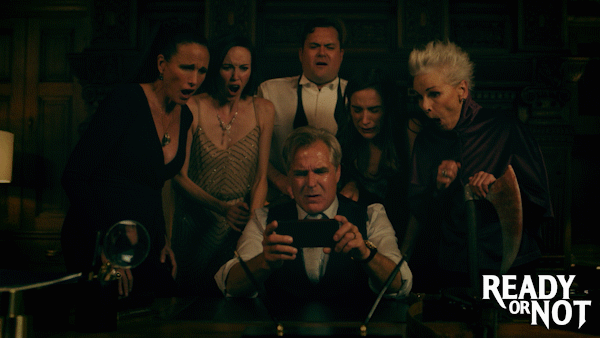 So that's my list. I'm more interested in what your Summer Movie Season roundup is like. Let me know!